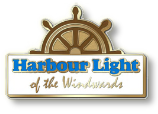 Distinctively Christian radio for the whole family
Bible teaching, preaching, music, drama, news and more!



DVR/Live Stream

Flash
TuneIn
Streema
Richard & Francina Little – Francina co-produces the Captain's Kids (30 minute daily programme for children) with "Mama C" (Arlene Cornelius) and the Joyful Woman with Jennifer. She also announces and edits programming. Richard is one of our main announcers and produces the "Prayer Time" programme. He also helps Pat Murphy with maintenance. They have four children. Pray with them for their need of the funds to put the roof on their house.
Isaiah 45:22, Look u
nto me, and be ye saved, all the ends of the earth: for I am God and there is none else. I am Francina Little – a Grenadian. I attend the Grand Bay Gospel Hall brethren Assembly. I grew up in a christian home with my adopted mother, Lenora Alexis, now with the Lord. I didn't really know my real mom, Iona Bristow, until she came to live with us recently. Please pray for her salvation. I got saved at the age of 16 when a dear brother, Steven Cox, also gone to be with the Lord preached on Isaiah 45:22 "Look unto me and be ye saved, all the ends of the earth, for I am God and there is none else." I realized there was no one to save me but the Lord Jesus and I surrendered my life to Him - and he saved me! I eventually obeyed the Lord in water baptism at the age of 17. It was a bit discouraging for me because I was the only young person in the church at the time. I began teaching pre-primary school which I did for eight years. When my adopted mother died, I was the age of 21. In 1989 I decided that I need a change, so I decided to travel. I went to the Embassy in Barbados to get a visa for the states but was turned down. That was all the Lord's doing because when I came back, I met Mr. Rolen Cornelius and Mrs. Arlene Cornelius. They were attending my church at the Grand bay Gospel Hall. Now church was getting better because they were bringing new people to church. They told me about the Harbour Light and asked me to pray about being a part of the Harbour Light. I prayed about it and felt that the Lord was leading me to labour here for Him. In 1990, the Lord began to bless me. First he blessed me with Godly parents – Papa C and Mama C. Papa C is now with the Lord but I still have Mama C. Then I was blessed with a godly husband and more blessing came! We have four children; two boys and two girls. Rachel is sixteen & Nathanael is 13 years old. They both have given their heart to the Lord, and obeyed the Lord in water baptism. Lily, 11, also made a profession, and our last son Timothy is 7. Our prayer is that they all would surrender their lives to the Lord and serve Him. We would appreciate your prayers for us in that regard. The Lord has bestowed many other blessing upon me. I am serving at the Harbour light now over 20 years - I was the first Grenadian staff member. I find joy in doing the Joyful Woman with Jenifer and Captain's Kids with Mama C. May the Lord fill us with the fruits of righteousness which are by Jesus Christ unto the glory and praise of God. Philippians 1:11.
My name is Richard Little from St. Vincent. I usually say, "Born in Trinidad, grew up in St. Vincent, and live in Carriacou." I went to live with my aunt in Union Island and was invited to Gospel meetings at the Ashton Gospel Hall. I was convicted of my sins when a dear brother, Stephen from Trinidad, preached on the prodigal son. I realized that I was like the prodigal son - running from home and God. I needed to stop running and surrender my heart and life to Him, and so I did! My spiritual mother and father is Brother and Sister Gellizeau of Union Island. They took good care of me. I met my wife Francina in Union Island when she came over to a Christmas program at the assembly in Union. I felt she was the one God had for me, got engaged, & two years after got married. We are happily married, and celebrated our 17th Anniversary on August 6. The Lord has been good to us. I have no doubt that the Lord brought me to Carriacou to live for a reason. Brother Randy asked me to pray concerning being part of the Harbour Light. I prayed about it and felt that the Lord was leading me to work here. I thank the Lord for His hand upon my family and myself. 1 Corinthians 15:58. Therefore, my beloved brethren, be ye steadfast, unmovable, always abounding in the work of the Lord. For as much as ye know that our labour is not in vain in the Lord. Our daily problems come and go, yet if we remain steadfast and dedicated, doing the work God has given us to do, we are confident that our reward awaits us in Heaven. Keep us in your prayers. Thank you for praying for us!
Richard & Francina Little
Richard Francina Lily Timothy Rachele Nathanael